We are gathering English Speaking Families that apreciate Charlotte Mason Education for a Coop, Mother's Culture Tea and other beautiful activities. Join us first online and then in person in 2022.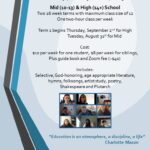 Middle School (10-13) and High School (14 & up)
Two 16 week terms with maximum class size of 12
One two-hour class per week
Term 1 begins: August 31st for Middle School, September 2nd for High School
Cost: $10 per week for one student, $8 per week for siblings
Includes: Selective, God-honoring, age appropriate literature,
hymns, folksongs, artist study, poetry, Shakespeare and Plutarch
A small Charlotte Mason community, modeled after the True, Good, and Beautiful model that Nancy Kelly describes on Sage Parnassus. The children that attend this group are in Forms 1 through Form 3. Moms are required to be involved and guide discussions and explorations. Shakespeare, Plutarch, scouting and music are the subjects included so far, with hopes to build into more.